5 Tips for Winter Hiking in The Hocking Hills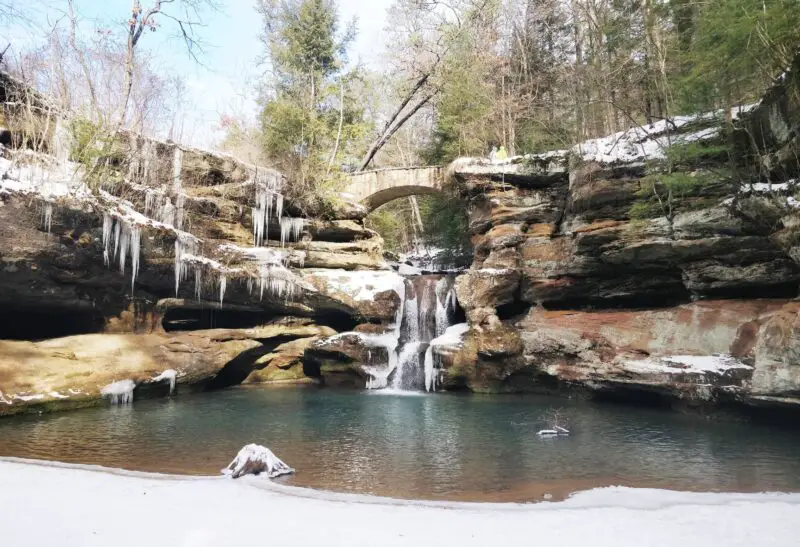 Nothing quite compares to winter hiking. The chill in the air and the landscape blanketed in white can provide the most scenic of scenes and impart the most peaceful of emotions. Having said that, the winter is an unforgiving season and hiking across snow and cold presents certain challenges even to the most seasoned hikers.
Winter Hiking in the Hocking Hills is now exemption. The Hocking Hills of Ohio offers some of the most beautiful landscapes you'll ever see during winter time; frozen waterfalls, high cliffsides, and snow topped trees abound. But like all the best natural wonders, you'll need to get ready for a challenge in order to appreciate it fully.
Luckily, listed below are some tips to remember once you decide to visit Hocking Hills:
Come With a Plan of Action
Do the necessary research and have an idea on exactly what time you intend to start and finish, which sites you'd like to see, and form contingencies for any unforeseen outcome. Bring the gear and equipment that could serve well in situations where you would suddenly have to hunker down for the night or overcome previously unmapped obstacles. Having a plan will not only ensure a smooth and pleasant hike, it will also keep you prepared and safe all throughout.
Bring the Right Supplies and Equipment
Bring the correct equipment and be ready with all the works when hiking in winter time. Apart from the usual (maps, compasses, lots of water, more food than you think necessary, etc.), bring the equipment specifically designed to traverse winter landscapes. Trekking poles can help provide extra support when moving in uneven terrain. A portable stove or torch is also an essential to keep warm and prepare quick meals. Also bring anything along with you that can help pass the night peacefully in the extreme cold. You'll be needing some rope in case the need for one should arise and an ice axe too to help with ascending or loosening hardpacked snow.
Bring a Friend
Bringing a friend – preferably one with winter hiking experience – can greatly increase the amount of enjoyment you get from the hike. This will also adding another layer of security for you since you'll have an extra pair of hands to help you in sticky situations. Consider also vailing of a guide of hiking professional if find yourself unsure on hiking the area alone.
Whether you decide to bring a friend, a group or guide, or go alone, its still a good idea to tell someone that's not coming of where you're going and when you intend to be back. This ensures that someone will definitely send help or go looking for you should you know arrive on time,
Dress Codes
Dress in many layers with fabrics intended to act as insulation. Avoid cotton altogether as it holds moisture – wool and synthetic fibers are better when building a base layer to keep out the cold. Ensure the top layers of your clothing is as waterproof as possible.
UV glasses are important too as the glare of the sun against the white snow can be very damaging to the retina while the icy winter winds can prove harmful to the unprotected eyes. Also don't forget to cover up your hands, neck, and the exposed parts of the head to avoid frostbites.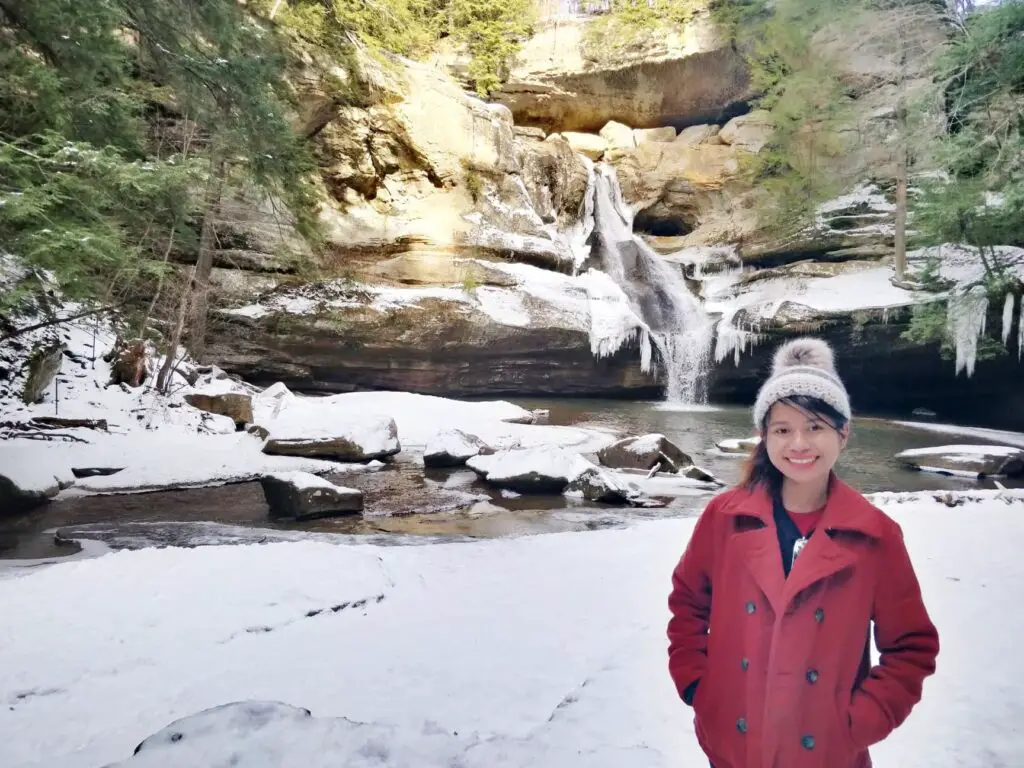 Wool or silk socks and the right winter hiking shoes are your best friends when traversing the Hocking Hills landscape. Be handy with a pair of snowshoes or crampons depending on the packing of the snow. Also make use of sturdy boots with thick soles that still allow for some room for your toes to move.
Know the Terrain
Be well aware of weather forecasts before setting out and have a general understanding of how rough winters can be in The Hocking Hills. Temperatures can go as low as -8 degrees during the winter months and the terrain itself features gorges, waterfalls, rock shelters, and cliffs. Beginners or first-timers are suggested to stick to the preestablished hiking trails for their own safety and follow the small guided groups. Know that whether you're taking the guide to hike the trail from Old Man's Cave to Ash Cave, or you're intent on setting out on your own expedition – learning as much about the lay of the land as possible can only be beneficial.
In conclusion, if you keep these things in mind and give your trip to the winter wonderland of the Hocking Hills, you'll undoubtedly have a safe and amazing time with the natural beauty the place has to offer. Happy Hiking!