Updated: PH Passport Renewal Requirements During Covid-19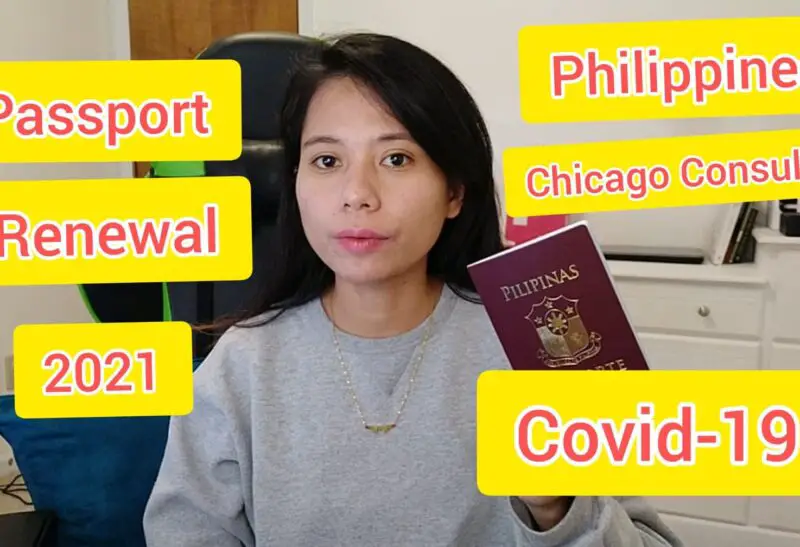 Passport processing including renewal is also impacted during Covid-19. We understand how stressful is it to process documents while most establishment is shutdown. But, there is some luck if you process your documents ahead of time! Luckily, Philippines Consulate in Chicago is still operating and processing passport renewals despite of lockdowns and travel restrictions to the state.
Although the Philippine Consulate in Chicago already posted all the information needed for passport renewals on their website, trying to keep every bit of the requirements and procedure in mind can be very taxing. Here's the updated list on what you need to know if your passport is expiring soon and need to update so you can travel.
Know that the consulate is very strict with the completeness of requirements – anything less will result in rejection. There are two sets of main requirements you need to fulfil to process passport renewals:
CORE REQUIREMENTS:
· Personal appearance in a must.
· No need to bring the pictures; you will be pictured at the consulate itself.
· Applicants must bring their own self-addressed mail envelope. It must also already be stamped, preferably using a USPS Priority Envelope with tracking number.
RENEWAL REQUIREMENTS:
· Renewal Application Form (Already Accomplished, Adult)
· Bring the old passport and a copy of the data page
· Copy of either the green card or the US visa
· Both an original and photocopy of PSA Birth Certificate
· At least one of the following valid IDs (original and photocopy):
a. Driver's license
b. State ID
c. School/Work ID
d. Philippine ID
FOR SPECIAL CASES, LIKE MISSING PASSPORT YOU MUST ALSO BRING:
· Affidavit of Loss;
· and/or Police Report if the passport was still valid.
FOR FEMALE APPLICANTS WHO WISH TO CHANGE THEIR LAST NAME:
· Either a Marriage Certificate for the newly married;
· Death Certificate for the newly widowed;
. See the Consulate website, chicagopcg.com for more info in case you wish to know about requirement for divorcees or annulled marriages.
FOR MINORS:
· Passport Application Form (Regular, Minor) that has to have already been filled up.
· The minor must be there in person. If, however, the minor cannot be accompanied by either parent, the attending guardian must give a Notarized Special Power of Attorney stating the minor's companion as legally capable to help in the application process.
· Both the original and a copy of the Birth Certificate.
· ID or Passport of the guardian .
FOR NEW PASSPORT APPLICANTS:
IF BORN IN THE PHILIPPINES:
· Passport Application form that has to have already been filled up.
· PSA Birth Certificate
· Marriage Certificate is it applies. .
· A valid ID
IF THE APPLICANTS WAS BORN ABROAD:
· The Consulate or Embassy issues Report of Birth.
For a full list of requirements, visit chicagopcg.com for the downloadable forms and a full list of requirements.
PROCEDURES
Now that you have your requirements, we also understand that knowing what to do and where to go is the next step in the renewal process. Luckily, we have also enumerated the steps on who to go about the renewal once you find yourself in the Consulate:
STEP 1: The first thing you have to do is set up an appointment by emailing [email protected], this is also where you send the Health Declaration Form. Walk-in applications won't be accepted. Remember that Chicago Consulate only processed documents every Monday, Wednesday, and Friday so you need to schedule appointment ahead of time.
STEP 2: Once at the Consulate, proceed to the client waiting area. Wait for your name to be called and proceed to the next step.
STEP 3: Submit the requirements and pay the necessary processing fees.
STEP 4: Undergo the taking biometrics and data encoding. as per usual.
STEP 5: Once finished, processing time for the new passport will take about 6 to 10 weeks.
STEP 6: They will receive the passport strictly by mail due to the pandemic.
We certainly hope that article was of great help and benefit to you. Renewing a passport does not have to be a chore when you know what to do and what to expect. All that said, know that we are not completely done with this pandemic yet. Be sure to practice proper social distance during the processes and use your passport will all due care and responsibilities. Follow traveling protocols and try not to visit high risk areas. Safe travels!