How To Apply For Japan Visa – Philippines Passport Holder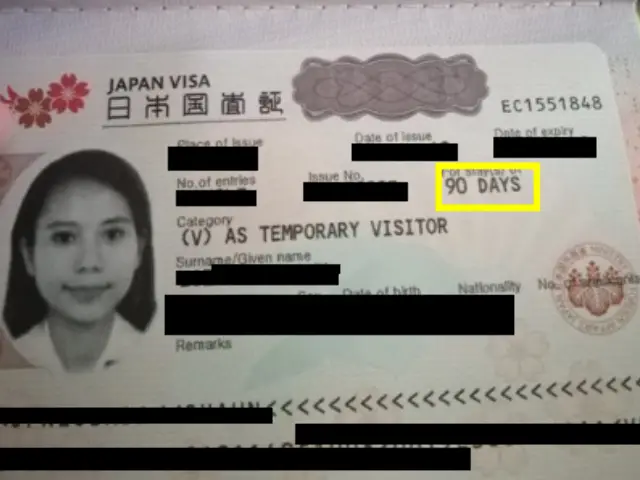 As a Philippines passport holder, when you want to come to Japan as a simple visitor, student, or for business travel, it is necessary to apply for a visa. A tourist visa allows you to stay for 30 days up to 90 days. In my case, Japan embassy granted my first travel up to maximum of 30 days stay. Here are some tips on how, where, and what type of visas are you getting to enter Japan!
Where To Apply Visa
Apply In Person
Japan Embassy has only accredited agencies who process visas. I process my visa at Reli Tours & Travel Agency in Mall Of Asia (MOA). I went there personally March 21, 2019, Thursday, to submit all the documents.
Received a text message from Reli Tours the following week March 28, Thursday, and that my visa is ready to picked-up already! So my first Japan visa took 5 days to be processed, 30 days granted, and I was really impressed on how Reli Tours had helped me ( 5/5 star rating). And I have my first travel to Japan on April 3, 2019!!! 😊
Apply Thru Courier Service – LBC
I wanted to extend my Tourist visa when I was still in Japan but I am not allowed to stay so I go back to Philippines April 30, 2019. And I planned to go back again July 2019. Since I am from Cuartero, Capiz and it is quite far in Manila, I called Reli Tours again if I can apply visa application thru sending it in LBC. And yes, we can apply visa thru a courier service!
Pay Visa Application at the nearest BDO Branch address to
  Account Name   : Reli Tours & Travel Agency
  Bank Name  : Banco De Oro
  Branch Name: SM Makati Branch
  Acct. No.:   : 40012832
Request for courier service to operator with payment information.
Remit payment bank to bank deposit slip as proof of payment.
Go to nearest LBC Branch and send documents address to
 Destination Address
   Reli Tours & Travel Agency
   SM Mall of Asia, Bay City Pasay City
   Tel: 632-556-1446 ~ 1447
   Globe: 0906-513-6777
   Smart: 0947-534-9472
I pay 2000 pesos at BDO Branch here in Roxas City to Reli Tours account number for the visa processing fee and sent my documents thru LBC on May 15, 2019. The following day Reli Tours in MOA received my documents already! Woow so fast! I can't believed it! 😊😱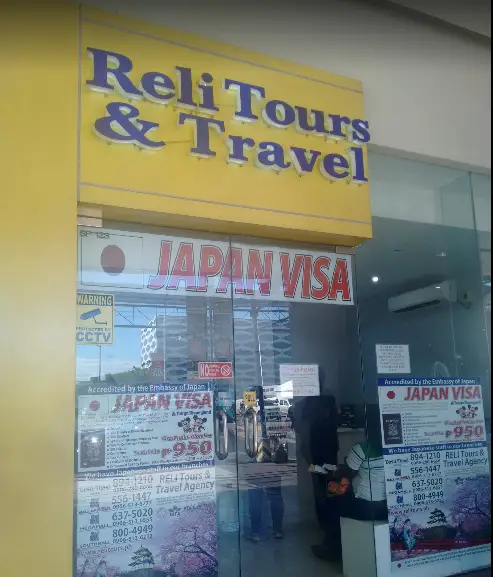 Then May 21, 2019 I received my visa granted 90 days stay in Japan already! Second visa took 3 days to be processed.
Types Of Visa
Here are the list of visa you can apply: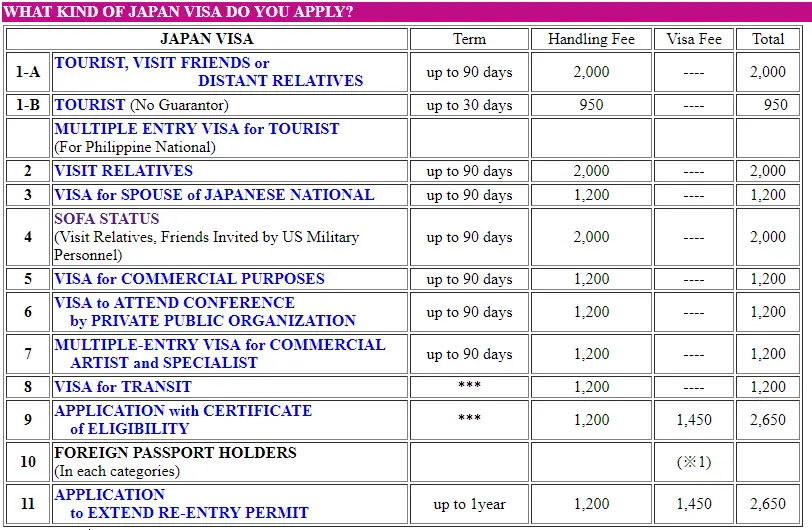 Visa Requirements
1: PHILIPPINE PASSPORT
2: VISA APPLICATION FORM (※) download form here, sample form
  - Application Form Size: A-4 size(21.0×29.7cm)
3: PHOTO
  - Specs: 4.5×4.5cm, with white background.
4:BIRTH CERTIFICATE -ORIGINAL-
  - Issued by PSA together with a birth certificate issued by the Local Civil Registrar.
5:MARRIAGE CERTIFICATE(if the applicant is married) -ORIGINAL-
  - Issued within one year from PSA.
6:DAILY SCHEDULE IN JAPAN(TAIZAI NITTEIHYO)
  - Schedule of Stay Form – dowload form here
7:PROOF OF RELATIONSHIP 
  - Documents such as pictures, phone calls detail, receipts, passport copies and explanation letter about the relationship with the applicant.
8:INVITATION LETTER FROM GUARANTOR IN JAPAN
  - Letter of Reason for Invitation Form – download form here
【If applicant will shoulder part or all of his/her travel expenses】
9:BANK CERTIFICATE -ORIGINAL-
  - Validity of Bank Certificate is three (3) months from the date of issue. 
10:APPLICANT'S INCOME TAX RETURN(Form 2316) clear photocopy(latest).
【If Guarantor in Japan will shoulder part or all of the applicant's travel expenses】
11:GUARANTEE LETTER
– Letter of Guarantee Form – download form here
12:INCOME CERTIFICATE(Shotoku Shomei) from City Hall
 -  TAX RETURN CERTIFICATE with Gross Income(Nouzei-shomeisho: form 2) from Tax office.
 -  KAKUTEI-SHINKOKUSHO-HIKAE
 -  BANK CERTIFICATE(Yokin Zandaka Shomeisho)
【If Military Personnel in Japan will shoulder part or all of the applicant's travel expenses】
13:GUARANTEE LETTER
14:TAX CERTIFICATE(Income Tax Payment: Form 1040 and W-2)
Source: Reli Tours & Travel Agency.
Please make sure to know what type visa are you getting so you have the proper documents to submit and call the accredited agency to assist your further needs. Once all these documents are completed, submit it directly to accredited agencies of Japan Embassy and wait for your visa to be released.